Direct Primary Care (DPC) is a new, innovative way to deliver primary care in which there is a direct relationship between the patient and the physician, bypassing third party payers. DPC is concierge-level primary care at an affordable price.
DPC works through a monthly membership system, like a gym membership and then… that's it!
No office copayments
No visit charges
No procedure charges
And then you receive the highest quality of primary care
Enhanced access to your physician
Call, text, or e-mail your physician whenever issues or questions arise
Same or next-day appointments guaranteed
Longer, unrushed appointments up to 60 minutes long
Access to the full gamut of Functional Medicine services
Engaging patient portal
How are you able to offer this level of service so cheaply?
In a conventional, insurance-based practice, a large proportion of the costs of the overhead is associated with coding, billing, and collecting payments from insurance companies. These processes are extremely complicated and time-intensive requiring teams of administrative personnel to manage it. By completely cutting out the middle man, we are able to save a significant amount of money on overhead and we pass that savings on to our patients.
What if I need to be referred to a specialist or have imaging done, such as X-ray or MRI?
We are not an insurance company, and you will still need insurance for other medical expenses outside of the scope of primary care. We hope to avoid specialists if possible, but if necessary, we will communicate directly with your specialist in order to best coordinate your care.
In terms of imaging, many patients will utilize their insurance as they otherwise would. We recognize that many will choose to use our services with a wrap-around low-premium, high-deductible insurance plan. Therefore, we have negotiated reduced prices for imaging for direct payment to the individual imaging companies. Direct payment has the potential to be cheaper than the out-of-pocket expenses associated with paying through insurance.
What about labs?
As with imaging, patients may choose whether they want to have their labs processed through insurance or access our negotiated discount cash pricing system. We assist our patients in this decision by estimating the insurance bill price and how much they may be responsible for and comparing that to the cash price.
Why should I pay for primary care when I can get it for free?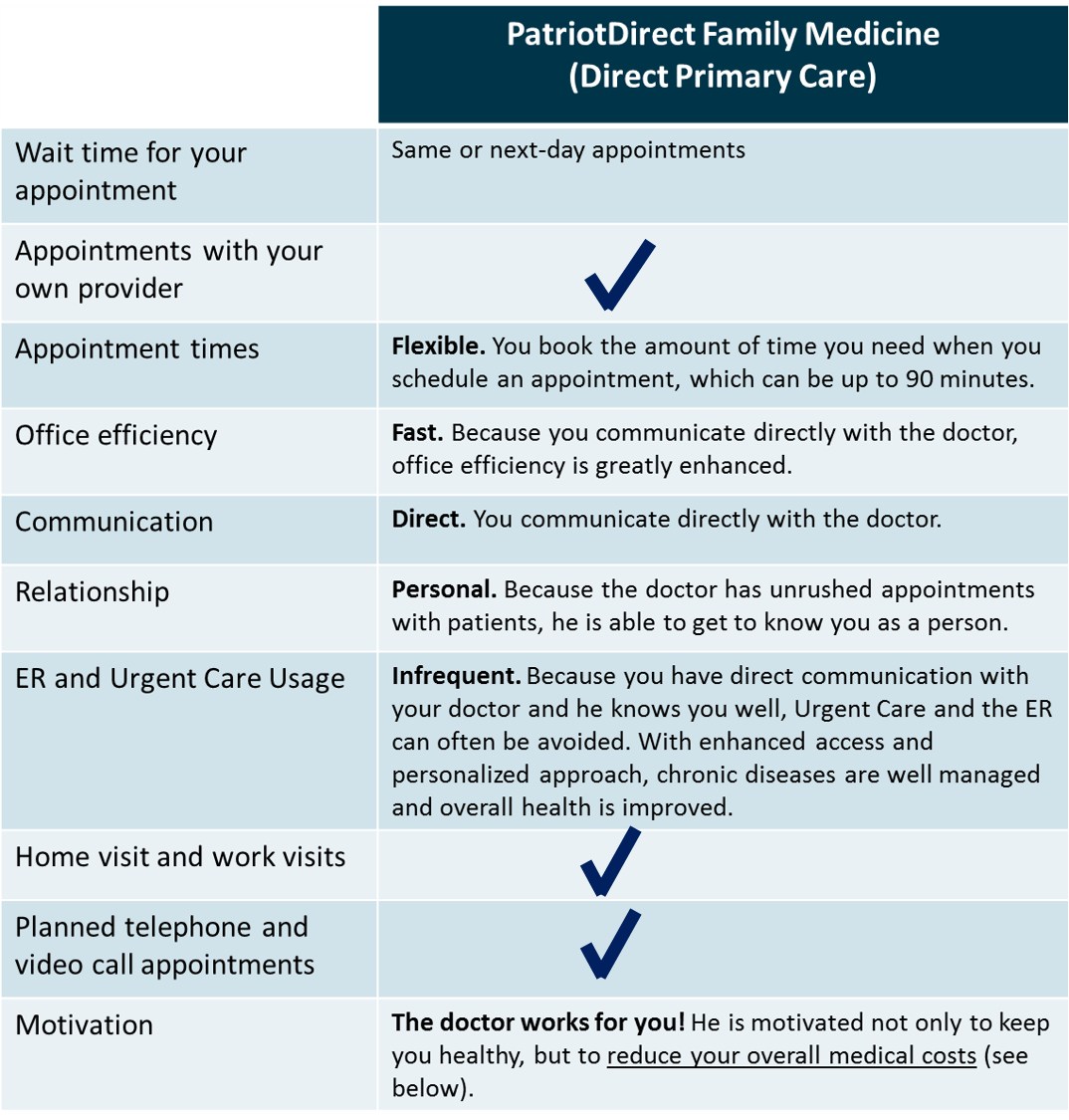 Can Direct Primary Care save me money?
In addition, to the personalized, comprehensive medical care that you receive, because we work directly for you and not your insurance company, we want to help you reduce your total out-of-pocket medical expenses. With DPC, you will SAVE money in the following ways:
No primary care copayments
Access to discounted medications
No loss of income from taking time off work for doctors appointments (we work around your schedule)
Avoidance of the Emergency Room and Urgent Care when possible
The ability to downgrade your health insurance to a Low Premium/High Deductible Plan
Access to discounted rates on labs and imaging, and the ability to use a Health Savings Account (HSA) towards these expenses
High quality care and having a partner in your long-term health will reduce your risk for serious chronic medical conditions and the debilitating costs associated with them
Is Direct Primary Care political?
We are not Democrats nor Republicans and we are not for or against Obamacare. Direct Primary Care is not about political ideology, it is about freedom. We believe that people should be allowed to spend their money on whatever they choose. For those that value their health and their relationship with their personal physician, DPC offers an affordable alternative. It is the freedom to choose that is the essence of patriotism.
What does the American Academy of Family Physicians say about DPC?
"The DPC model is structured to emphasize and prioritize the intrinsic power of the relationship between a patient and his/her family physician to improve health outcomes and lower overall health care costs. The DPC contract fee structure can enable physicians to spend more time with their patients, both in face-to-face visits, and through telephonic or electronic communications mediums should they choose, since they are not bound by insurance reimbursement restrictions. For these reasons, the DPC model is consistent with the AAFP's advocacy of the PCMH and a blended payment method of paying family medicine practices." – 
American Academy of Family Physicians